Reviews
A swell way to see some different sides of
New York
. Thanks!
Unfortunately, the day we'd booked for SwingStreets'
Harlem
tour was really lousy: chilly, windy and overcast. Still, our guide made the whole experience a sunny one. He has a quirky sense of humor, interacted easily with members of our group…and made sure that we didn't feel like strangers with one another. This helped to bring some participants who'd come alone into our conversation … Because of prior commitments, two couples had to peel off as we passed the 135th St. subway station. But we had all exchanged phone numbers, so maybe we'll meet them again. Walking tours like this one tend to attract bright, outgoing people, don't they?
The guide provided plenty of historical information but not overdoing it.
Our leader was enthusiastic - and that was contagious. He got group members talking and laughing with one another, which heightened everyone's enjoyment.
This [
Harlem
] wasn't a food-tasting tour, although we've enjoyed those during past
New York
visits. But our guide did point out several worthwhile eating places we passed along our route, including a very classy patisserie along
Malcolm X Blvd.
On
116th St.
, near our finishing point, there are also several West African restaurants that we're curious to try someday. Most of our group decided, however, to walk a few blocks back to Sylvia's, which is surely the most famous restaurant uptown. It's crowded on weekends but offers outstanding Southern dishes. We enjoyed one another's company, as well as the chicken-and-waffles house special. Dee-lish!
A nice variety of [
Brooklyn
] neighborhoods … A great variety of sights.
By coincidence, the [
Harlem
] tour I took last weekend included another architect besides myself. Since he was Hungarian and I'm from the West Coast, we both welcomed this chance to examine a spectacularly beautiful neighborhood we had read about but never seen before.
I have always been a huge jazz fan, with Duke Ellington as my ultimate hero. For me, taking this
Harlem
tour was like a dream come true. Along the way, we managed to pass four different places where Duke lived at various times during his career. There were also many other addresses and locations of interest to a hard-core jazz lover like me. It seemed to my wife and myself that nobody else joining in for this walk is as crazy about this music as we are. But everyone really enjoyed the sights. What's more, the lively conversation among participants enroute made this a totally delightful experience. In fact, I may fly from
Cleveland
again sometime in the future, just to do this same walk again.
We have recommended your
Harlem
walk to other friends here in Chicagoland.
I wouldn't change a thing about this walk.
Our guide would be a great ambassador for
New York
.
We are German speakers and English is not our first language. However, our guide speaks slowly enough and clearly enough that I don't think we missed any details.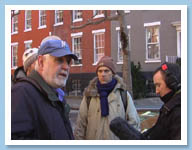 Our group touring
Greenwich Village
numbered fourteen persons in all. Oddly enough, three of them constituted a crew from BBC radio in
London
who were in the city gathering material for a broadcast documentary about the
New York
jazz scene. There was an interviewer, a sound technician and a producer. Remarkably, our guide somehow maintained his poise with a microphone stuck into his face at every stop along the way … If the finished program could ever be posted on the SwingStreets website, that would be great, since our party guesses that some of our comments and questions are probably included.
Our tourguide is knowledgeable and enthusiastic. He really knows his stuff.
One problem with many walking tours I've taken is that once you begin, there are no rest rooms available along the way. Our guide through Harlem made it easy for us by telling us at the starting point where we could find "comfort stops" at various points enroute … The guide also set a comfortable walking pace: not so quick that my husband and I couldn't keep up (he is 76 years old) but also brisk enough that no one became bored. Generally speaking, the route from where we began down to
116th St.
is either flat or gradually downhill. Even people in wheelchairs could easily do it.
I went along reluctantly on this [
Greenwich Village
] tour. My wife likes these kinds of "educational" outings more than I do. But this walk was fun…Our guide was a fellow who, as they say, wears his learning lightly. I intend that as a compliment, too!
If you like exploring new neighborhoods, take this [
Brooklyn
] tour. Out-of-towners will love it. There were even three youngish professionals from
Manhattan
who said they'd never seen any of these areas before and didn't even know they existed. To me, the most surprising part was Flatbush, where you go from a hectic
Caribbean
district almost instantly into another section where the streets are lined with impressive Victorian mansions surrounded by perfectly manicured lawns and gardens. This is a
New York
that I'd never imagined.
As first-time visitors, we got to see a lot of things we wouldn't have found on our own.
For more comments by ticket buyers, see the Zerve website.